If you have any questions, please Call: +86-(0)917-3565328
Welcome to Our Company!
What Can I Do Fou You?

Baoji Fengze metal materials Co., Ltd. locates in "China Titanium Valley"- Baoji, which was called Chencang during ancient time,it is the home
-town of Chinese ancestor Emperor Yan, and the original place of ZHOU and Qin Dynasty, it is known for the reputation as "Emperor Yan's hometown, home of bronze ware, Holy Land of Buddha's finger". As the "China Titanium Valley", Baoji is the largest center of titanium manufactur
-ing, selling and gathering & distributing, it leads the trend of titanium industry development.
Read more>>
Why Choose Us?
Our promise:

(1), Specialized in titanium industry for over ten years, we promise that the quality of our products is trustable and our service is considerate.
(2), We promise that maybe we can't give you the lowest price but we'll offer you the most favorable price.
(3), We promise that in case there are any problems about our products, we'll try our best to deal with it as soon as we can.
We are your wise choice!
Read more>>
Perfect cooperation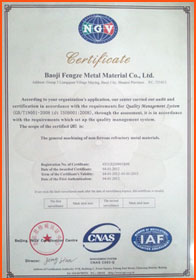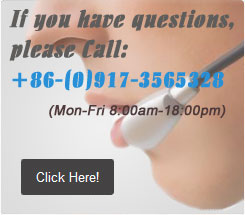 Strategic goal: Create first-class quality, forge metal with souls
Trade promotes production, production furthers trade
Mission: To be abundant in China, to be beneficial everywhere
Business philosophy: Survive by quality, develop on creativity
Dream: Struggle for astronautics of humankind
Service philosophy: Is it not delightful to have friends coming from afar
If you have any questions,
please
Call: +86-(0)917-3565328
Address Info:
Liangquan Industrial Park,
Maying town, Baoji city,
Shaanxi province, China