If you have any questions, please Call: +86-(0)917-3565328
News Categories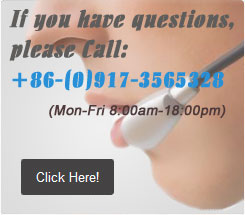 Strategic goal: Create first-class quality, forge metal with souls
Trade promotes production, production furthers trade
Mission: To be abundant in China, to be beneficial everywhere
Business philosophy: Survive by quality, develop on creativity
Dream: Struggle for astronautics of humankind
Service philosophy: Is it not delightful to have friends coming from afar
News
Corrosion Datas of Titanium
Media

temperature/℃

Corrosion grade

1

indoor temperature boiling

0.000/0.345

excellent/good

5

indoor temperature boiling

0.000/6.530

excellent/bad

10

indoor temperature boiling

0.175/40.87

good/bad

20

indoor temperature

1.340/—

bad/—

35

indoor temperature

6.660/—

bad/—

5

indoor temperature boiling

0.000/13.01

good/bad

10

indoor temperature

0.230/—

good/—

60

indoor temperature

0.277/—

good/bad

80

indoor temperature

32.660/—

bad/—

95

indoor temperature

1.400/—

bad/—

37

indoor temperature boiling

0.000/<0.127

excellent/excellent

64

indoor temperature boiling

0.000/<0.127

excellent/excellent

95

indoor temperature

0.0025/—

excellent/—

10

indoor temperature boiling

0.000/6.400

excellent/bad

30

indoor temperature boiling

0.000/17.600

excellent/bad

50

indoor temperature

0.097/—

excellent/—

20

indoor temperature boiling

<0.127/<0.127

excellent/excellent

1:3

indoor temperature boiling

0.0040/0.127

excellent/excellent

3:1

indoor temperature

<0.127/—

excellent/—

7:3

indoor temperature

<0.127/—

excellent/—

4:6

indoor temperature

<0.127/—

excellent/—

acetate

100

indoor temperature boiling

0.000/0.000

excellent/excellent

50

indoor temperature

0.000/—

excellent/—

5

indoor temperature boiling

0.127/29.390

good/bad

10

indoor temperature

0.008/—

excellent/—

10

indoor temperature boiling

0.000/0.033

excellent/ excellent

25

boiling

—/0.028

—/ excellent

10

boiling

—/1.270

—/good

25

—/100

—/2.440

—/bad

50

—/100

—/7.620

—/bad

tannic acid

25

indoor temperature boiling

<0.127/<0.127

excellent/ excellent

50

indoor temperature boiling

<0.127/<0.127

excellent/ excellent

100

indoor temperature boiling

<0.127/<0.127

excellent/ excellent

10

boiling

—/0.020

—/ excellent

20

indoor temperature boiling

<0.127/<0.127

excellent/ excellent

50

indoor temperature boiling

<0.0025/0.0508

excellent/ excellent

73

boiling

—/0.127

—/excellent

10

boiling

—/<0.127

—/excellent

25

boiling

—/0.305

—/good

50

30/ boiling

0.000/2.743

excellent/bad

28

indoor temperature

0.0025/—

excellent/—

20

indoor temperature boiling

<0.127/<0.127

excellent/ excellent

20

indoor temperature

0.0708/—

excellent/—

40

indoor temperature /95

0.000/0.002

excellent/ excellent

30

indoor temperature boiling

0.000/<0.127

excellent/ excellent

Lead dichloride

10

<0.127/<0.127

50

<0.127/<0.127

10

<0.127/<0.000

10

<0.127/<0.000

25

<0.127/<0.127

10

<0.127/<0.127

5-10

<0.127/<0.127

20

<0.127/<0.127

20

<0.127/<0.127

20℃saturation

<0.127/<0.127

50

<0.127/<0.127

Zincum Snlfuricum

20℃saturation

<0.127/<0.127

10

<0.127/<0.127

30

<0.127/<0.127

11

indoor temperature

<0.127/—

excellent /—

Steam and liquid

80

0.005

excellent

Steam and liquid

boiling

0.005

tetrachloroethylene
(stable)

100% Steam and liquid

0.0005

tetrachloroethylene(H2O)

0.0005

0.003

trichloromethane(H2O)

0.127

good

99%Steam and liquid

0.00254

excellent

99

0.00254

37

0.127

good

methanal(2.5%H2SO4)

50

0.305

good
PS:1.Corrosion is divided into three grades: excellent——excellent corrosion resistance, corrosion rate is under 0.127mm/a. Good——good corrosion resistance,corrosion rate is between 0.127-1.27mm/a. Bad——unable to resist corrosion, corrosion rate is above 1.27mm/a.
2.In most medium, especially in neutral, oxidizing medium and seawater, pure titanium has high corrosion resistance. The corrosion resistance of titanium is much higher than aluminum alloy, stainless steel and nickel alloy in sea water; in industry, agriculture and the Marine environment, the color of titanium surface won't change after several years. In hydrofluoric acid, sulfuric acid, hydrochloric acid, orthophosphoric acid and some hot concentrated organic acid, titanium can be easily corroded.
3.Localized corrosion and intergranular corrosion won't happen to titanium, it happens uniformly. 4.The corrosion resistance of titanium alloy is similar with pure titanium, that's why titanium alloy can be widely used in chemical and shipbuilding.
If you have any questions,
please
Call: +86-(0)917-3565328
Address:
No.195 Gaoxin Road
Titinum Valley Building
Baoji Hi-tech Zone
Shaanxi province, China